A lot of companies worry about giving too away too much "free" information in their content marketing.
They're worried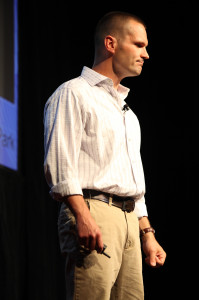 that if they publish, say, a buying guide, potential customers might use that to help them purchase one of their competitors' products. Or if they give away too many trade "secrets", their customers might not need them.
But the experience of Marcus Sheridan, the owner of River Pools and Spas in the US, shows that when it comes to content marketing, you really can't give away too much.
The story starts in 2009 during the global financial crisis, when swimming pool installations slumped.
Sheridan responded by overhauling the marketing strategy for his 20 person fibreglass pool company and focussing on content marketing.
He quickly spotted an opportunity. He realised that when people want to buy something they start with an internet search and with specific questions. But most of his competitors preferred to focus on their own company rather than giving people the information they were looking for.
So Sheridan started answering some of those questions, such as "how much does a fibreglass pool cost?" and "what are the problems with fibreglass pools?"
As Sheridan explained to the New York Times: "So we wrote an article about the problems with fiberglass pools and specifically came right out and said: Here are the issues. Here are the benefits. You decide. Now, when you go in and type anything about fiberglass issues and problems, you're going to see the River Pools Web site and you're going to think, 'Oh my gosh, these guys are so honest'."
Next Sheridan did something more surprising: he wrote a blog post about the best swimming pool installers in Richmond, Virginia, where the company operates. And he didn't include his own company.
Of course, this turns traditional advertising thinking on its head, that you should never even so much as acknowledge the existence of your competitors.
Sheridan explains: "The moment I put my name up there I would lose all my credibility. But here's the thing. Take the first company on the list, Pla-Mor Pools, a top competitor of ours. If you type in, 'Pla-Mor Pools reviews Richmond, Va.,' which of course people do all the time when they're vetting a company, what comes up? Me! You vet all my competitors, now I'm showing up for all their key words. If you really want to understand the power of inbound marketing, it comes down to this idea: I want to have the conversation at my house."
The strategy is to keep readers on the River Pools website for as long as possible, because Sheridan reasons that the more time they spend on the site, the higher the chance they'll fall in love with the company.
And he's got statistics to back him up. If a potential customer has read 30 pages of the site's content before a sales appointment, they end up buying 80 per cent of the time. That's a huge improvement on the industry average of 10 per cent.
River Pools sales have recovered to pre-GFC levels and Sheridan has set himself up as a content marketing consultant.
So what's the lesson here? Firstly, you can't give away too much content. It all keeps people engaged and coming back.
Secondly, you win the trust and respect of your customers by being honest, even about things you'd probably not rather talk about. It will ultimately convert to sales.